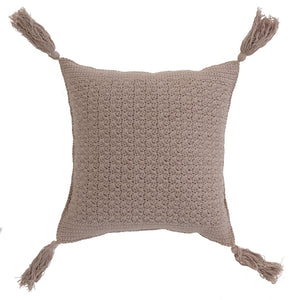 This Crochet Pillow is made by hand by talented and independent artisans in Indonesia. The crochet pattern on the pillow is tightly woven and high quality, with a subtle, styled border at either ends of the piece. Made with 100% cotton, back zipper closure, and cotton tassels on each corner. A beautiful boho work of art."
Size: "15""W x 15""L w/ 16"" x16"" fill"
Care: "Hand wash, or wash on cold, delicate cycle in washing machine, with similar colors. No bleach. Hang to dry."
Origin: Made in Made in Indonesia
INK-P3