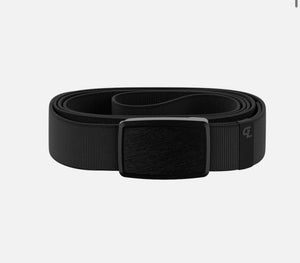 The Groove Life® Low Profile Belt in Black/Midnight is designed to provide maximum comfort and style while still being functional and practical for everyday use.
Thanks to the black webbing and a sleek and stylish midnight-colored buckle and faceplate, it has a modern and versatile look, perfect for any occasion. Whether you are dressing up or keeping it casual, the Groove Life® Low Profile Belt is the best accessory to complete your outfit.
We offer a wide range of sizes, from XS to XL, to ensure the perfect fit for all body types. Our belts are adjustable and can be customized to fit your individual needs, ensuring that you are always comfortable and confident in your attire.
Our Groove Life® Low Profile Belt in black and midnight is made from premium materials, ensuring that it is durable and long-lasting. The webbing is strong and resilient, while the buckle and faceplate are designed to stand the test of time.
So why wait? Order your Groove Life® Low Profile Belt today and experience the ultimate combination of style and functionality!
B11-001-05