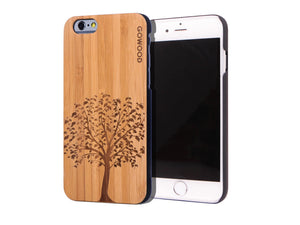 Gowood's bamboo or walnut wood phone cases have a unique combination between wood and polycarbonate. They are beautiful to look at, but also contain excellent shock absorption characteristics. Your phone will look unique, because of the beautiful wood backplate and is protected by the polycarbonate at the same time. The wood used is eco-friendly and ultra light with only 23 grams.
Phone Cases available in:
iPhone 6, 7, 7+, 8, 8+, X/XS, XR, XS Max, 11 & 11 pro.