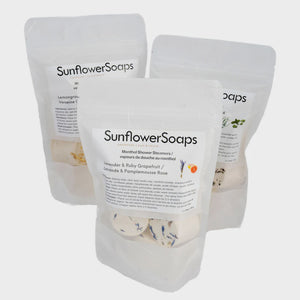 Handmade/pure and natural
Shower steamers are scented tablets that dissolve in the shower and provide an invigorating scent to your shower experience. For those who prefer showers over baths but still want some of the aromatherapy experience of bath time: shower steamers are for you!
Simply place a steamer on the floor near the back of the shower where some spray from the shower will come into contact with the steamer (not directly under shower spray). The steam and slight spray from the shower will release the intoxicating scent from the steamer.
Each steamer will last for 2-3 showers. 5 steamers per bag.